Ana Morales said she used to eat a lot of rice, beans and tortillas.
She also used to have an uncontrolled case of diabetes.
Morales, a 55-year-old Northline resident, is an Acres Home Health Center patient who began using his "Food Farmacy" last August. She picks up 30 pounds of fresh produce and other food every two weeks and also has taken cooking classes as part of the program, which Harris Health System operates in a partnership with the Houston Food Bank.
Her A1C level, which measures the average blood sugar level over a period of three months, was a dangerously high 9.9 when Morales started the program, according to a nurse at the health center. When she was tested in January, that level had dropped to 7.1, which is on the lower end of the spectrum for a person with diabetes.
Morales credits the Food Farmacy – where she can get apples, oranges, onions, carrots, sweet potatoes and greens along with oats, whole wheat pasta and canned goods – as a significant contributing factor.
"I like everything from here," Morales said. "It's good."
The on-site Food Farmacy at Acres Home Health Center, 818 Ringold St., opened in August 2020 and is like a mini grocery store with seasonal offerings. It is adjacent to a small kitchen where patients can receive hands-on instruction about preparing and cooking food in healthy ways, along with lessons about the importance of portion control and a balanced diet.
The local Food Farmacy is one of three within the Harris Health System, with the others being in Pasadena and the Kashmere Gardens area. The hospital system is the first in Texas to provide the service on its premises, according to dietician Melissa Prideaux, the supervisor for the program in Acres Homes.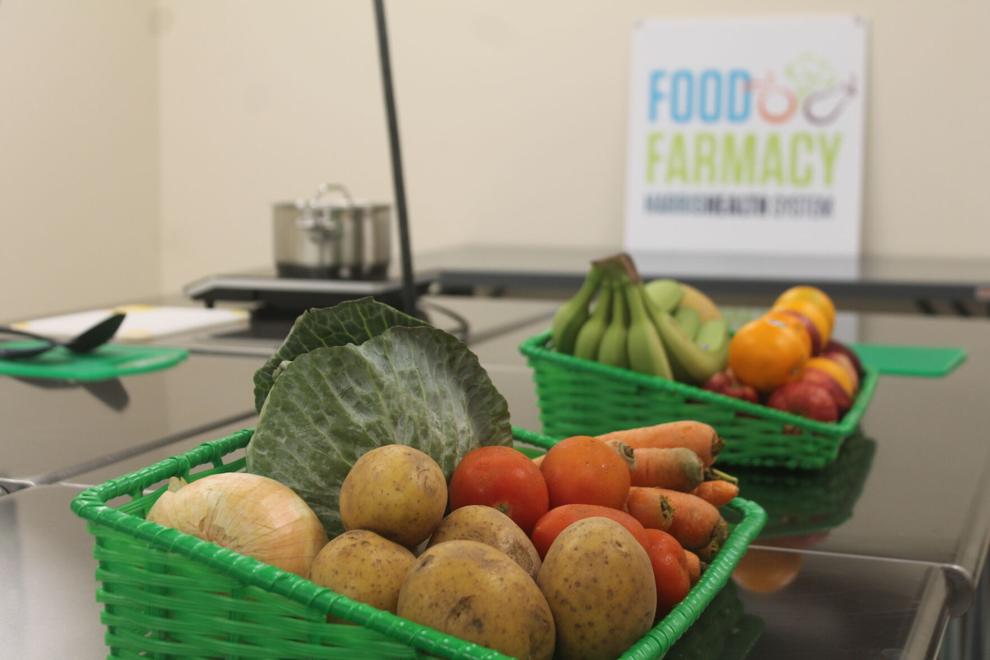 The Houston Food Bank invested about $38,000 to build the food pantry and kitchen in Acres Homes, according to a spokesperson for Harris Health System, who said it costs about $20,000 annually to operate. Prideaux said about 90 percent of the food in the pantry is donated by the Houston Food Bank.
There are about 100 patients in the Food Farmacy program at Acres Home Health Center, Prideaux said, with most living in the vicinity of the facility. The program is open to patients of the health center who are determined to have food insecurity as well as uncontrolled diabetes.
"We have on average seen a drop in those (A1C) numbers in our patients who participate in our program, which is huge," Prideaux said. "Even dropping just one point can be taking away a medication for that patient. It's huge for that patient to not have to take it, and it's huge for that patient to not have to purchase that medication."
Vanessa Martinez, a nurse who helps administer the program, said healthier eating contributes to controlling diabetes along with medication, lifestyle and physical activity. She also said patients are not asked to eliminate anything entirely from their diets, but rather encouraged to limit their intake of certain foods.
Morales, for example, said she now limits herself to three tortillas per day. She also cuts per portion of fresh fruit in half, such as eating only one-half of a banana at a time.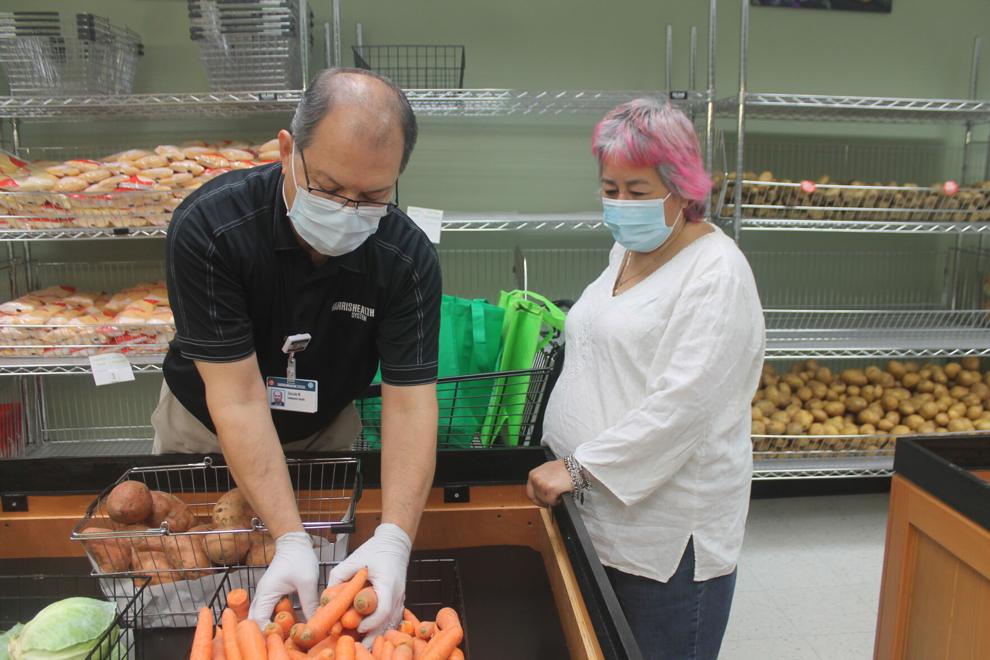 "We deal with a lot of Hispanics and people in this area who are used to eating a certain way," Martinez said. "When you have rice and beans and three tortillas on your plate, that's nothing but carbs. The only protein is the chicken or the meat, and usually there's a Coke there, too. Their carb level at that time, their medication is not going to be able to correct that. Their insulin is not going to be able to correct that."
Prideaux said the program aims to tackle the social determinants of health and food insecurity. Many residents in the area surrounding the health center are economically disadvantaged and also have challenges with transportation, making an on-site food pharmacy an easy-to-access commodity for patients.
The food pantry has remained in operation throughout the COVID-19 pandemic, Prideaux said, with patients taking advantage of curbside service while the facility was closed to the public for safety reasons. She also said patients are granted a one-time use of the Food Farmacy even if they are not eligible for the program.
"It's had a very good impact," said Dr. Shrabanee Mitra, the medical director at Acres Home Health Center. "We have a population that has a hard time accessing healthy food. It goes out of their budget most of the time."
Morales said she prefers getting groceries at the Food Farmacy – where a health educator assists patients in selecting foods to meet their needs – over a typical grocery store. That is largely because it has helped her keep her diabetes in check.
Martinez said she considers Morales to be a "huge success story" for the program, and Morales wants to keep it that way. Along with cutting back on carbohydrates and meat, she's learned how to saute vegetables such as beets and carrots while eating more fresh salads as well.
"They teach you a lot," she said. "My blood sugar levels are doing good."
To get stories like this delivered to your email inbox, sign up here for The Leader Daily Newsletter.
.