Beautiful blue skies, crisp winds blowing and bright, breathtaking sunshine made Saturday, April 9, the perfect day for the First Annual Cancer Walk sponsored by Pink with A Passion at the Warren County Recreation Complex. The passion, concern and action this organization takes to educate and provide support and resources to local communities are tremendous, and this year's Cancer Walk proved to be another successful community event!
Pink with A Passion, a local nonprofit organization born out of love, compassion, education and a desire to help women fighting breast cancer, originated in 2017. After much hard work and dedication, they have now evolved into an organization that helps patients and their families who are battling all types of cancer. The current members of Pink with A Passion are Corie Simmons, Elaine T. Smith, Natoya Woodard, Carlotta Woodard, Barbara Baker, treasurer, Elaine White, vice president and Amena Wilson, president.
Pink with A Passion operates by donations and various fundraisers such as plate/stew sales and raffle ticket sales, giving those funds back to the community in the form of care packages and financial support to help with various needs during treatments such as doctor's visit co- country, and gas to get to those doctor's visits.
During an interview with Amena Wilson, president of the organization and cancer survivor, she told me that "Not only can breast cancer take a devastating toll physically and mentally, but it also affects families financially as well. Wilson, who battled breast cancer, stated that cancer, no matter what kind, can be very overwhelming with surgeries, bills and co-payments each time there is a doctor's visit, and can be financially draining."
COVID-19 caused the organization to reinvent themselves in many ways, but their giving never stopped. On Oct. 11, 2021, in honor of Breast Cancer Awareness Month, Pink with A Passion held their Third Annual Donation to the Maria Parham Health Cancer Center in Henderson, donating $2,000, which social workers divided among patients who needed it for gas, transportation and other needs as requested.
Pink with A Passion has a long-standing dedication to providing education and resources as they encourage people to get their recommended preventative cancer screenings and regular doctor's visits. Representatives of the Maria Parham Health Cancer Center, Henderson, were onsite during the Cancer Walk to provide education.
Kimberly Smith, director, said they were there to provide cancer screening education, and talking to the community about when to get tests and screenings and what signs to look for. Smith stated that Warren County has a high rate of lung cancer, and she educated members of the community on Low-Dose CT Screening, a test used to detect lung cancer before any symptoms appear. Smith highly recommends this screening as it is usually covered by insurance; however, she says if a person's insurance does not cover it, they can usually help them find resources to cover the costs.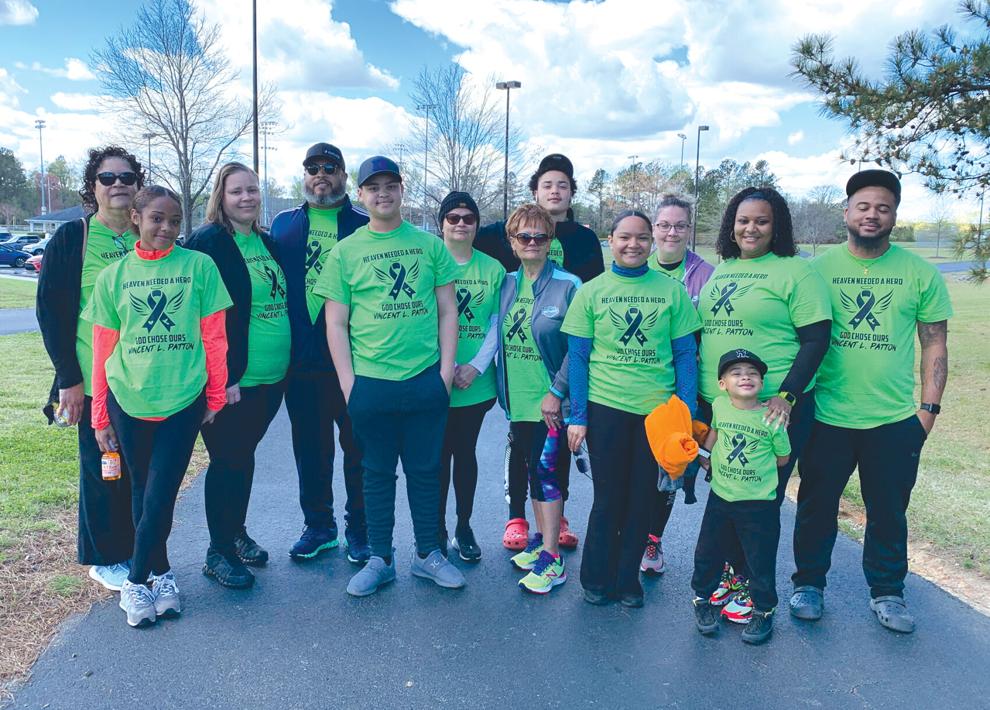 At Saturday's Cancer Walk, there was never a dull moment as DJ Paul of Fame played music, cheerleaders from the Warren County Recreation Department cheered, and the Warren County High School band performed. Participants walked laps around the track in celebration of their survival of cancer or a loved one's survival, or in remembrance of a loved one who had succumbed to cancer. At least 13 members of the Patton-Williams family walked in recognition of their beloved family member, Vincent Patton who passed from non-Hodgkin's lymphoma in 2021.
There was a powerful memorial and candle lighting ceremony to end the day's activities. I asked President Wilson to share her thoughts about the Cancer Walk: "It was amazing; I felt so good on the inside; I had tears of joy just seeing so many people come out and so much love was shown. Love and unity were shown and that's what it's all about." Wilson said. People attended from as far as South Carolina, Maryland, Winston-Salem, Raleigh, Durham, Wake Forest, Louisburg and Henderson.
Pink with A Passion is always thankful to everyone who donates and supports their fundraisers, activities and events, and they especially thank their families, friends and community supporters from Warren County and surrounding communities they want the community to know they are here to support. They also express thanks and appreciation to the sponsors of the Cancer Walk: DJ Paul of Fame, Wright Place Rental, RH Greene Funeral Home, Maria Parham Health Cancer Center, Hope Breedlove and staff.
Donations can be mailed to Pink with A Passion at PO Box 315, Warrenton, NC 27589; and can be sent through cash app $PWAP1. If you have questions about the organization or would like to purchase a Pink with A Passion T-shirt, contact Amena Wilson at 252-213-5735 or Elaine White at 443-983-7472.
TA Jones is a freelance contributor to The Warren Record and the author of "The Parent Push, Helping Your Child Succeed Through High School and Beyond." To get in contact with her, visit tajones.org.
.