The recall of some powdered infant formulas made by Abbott Nutrition, including some cans of Similac, Alimentum and EleCare, is being felt in the Yakima Valley.
"Our phones have been ringing practically off the hook since the recall was announced," said Gabrielle Frank, the supervisor for the Yakima Valley Farm Workers Clinic's Women, Infants, and Children program at its Yakima Memorial and Wapato sites.
Abbott Nutrition expanded the recall earlier this week, according to a news release from the Washington Department of Health. Some cans of the formula manufactured in Sturgis, Michigan, may be contaminated with Cronobacter, a germ that can cause severe diarrhea and urinary tract infections in infants.
Five infants have been hospitalized nationwide, and the bacterial infection may have contributed to death in two patients, the federal Food and Drug Administration said. No cases have been reported in Washington state, the DOH said earlier this week.
Frank said she advises parents to check the lot number of their formula using Abbott Nutrition's website to see if their formula is part of the recall. The lot number is on the bottom of the product. Families should avoid using the formula if they can't find a lot number, according to the DOH release.
More than 18,000 families receive formula through WIC across Washington, the DOH release said. Frank said that YVFWC helps about 10,000 people through the WIC program in Yakima County and near Walla Walla, though not all those families are in need of formula.
Formula has been sometimes hard to come by during the pandemic due to supply chain issues, she said. But WIC staff are working to ensure that every infant has access to nutrition.
"We have been able to add over a dozen new types of formula that we don't typically offer WIC clients," Frank said. "So, in some cases we're swapping the type of formula that a family has been on to a different type that they can find that will still be tolerated well by their baby."
Infants rely on formula or breast milk exclusively for the first six months of their lives and continue using it through the first year, according to the Centers for Disease Control and Prevention. The DOH advised families not to use recalled formula, dilute formula or try to make their own.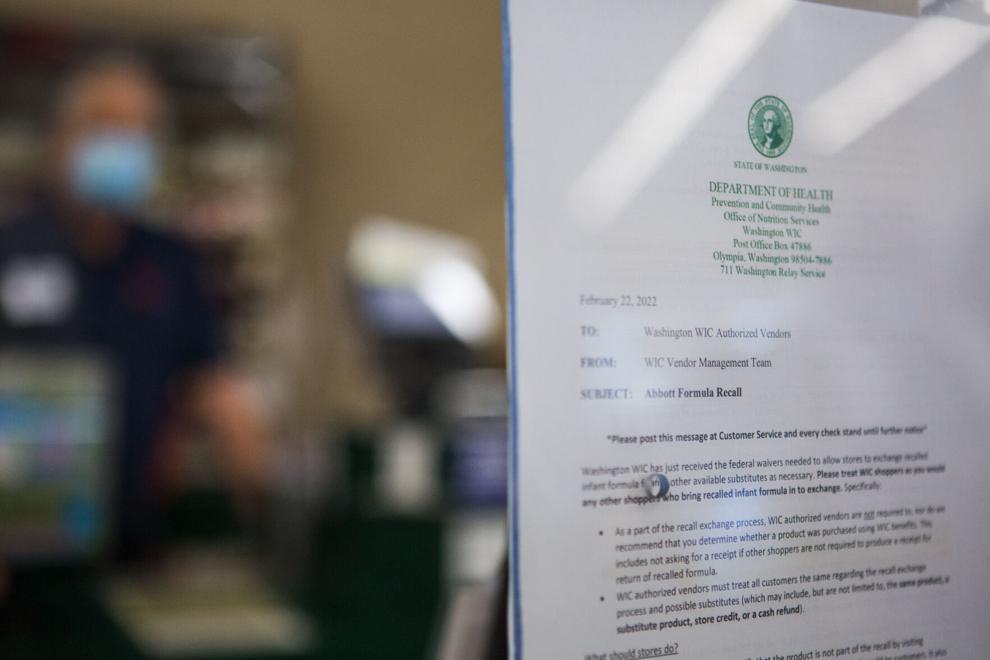 "So, for families who rely on formula to feed their babies this is a really frightening and stressful time," Frank said. She encouraged anyone with questions to reach out to their offices.
Information on the recall is also available on the DOH's website in Spanish. YVFWC WIC workers are trained in both English and Spanish, Frank said.
WIC also has trained staff available to help anyone who is using both breastmilk and formula for their baby who wants to do more breastfeeding. People who aren't on WIC can reach out to their health care provider for support, the DOH said.
In stores
Families with recalled formula should go to the store they purchased it where they can exchange it for safe formula or, in some cases, a refund if formula is not available, Frank said.
Doyle Luttrell, the store manager at Wray's Marketfresh IGA in Selah said a few people come in most days about the recall in the weeks since it was first announced on Feb. 18, but it's been winding down.
"We either replace it or return the money and that's it," he said.
Some people bring in recalled products, but others come in with formula not on the recall list, he said. Products that are not apart from the recall are safe to use, according to the DOH.
He estimated his store has collected and destroyed about 75 recalled cans from approximately 25 customers as of Thursday, March 3, 2022. Luttrell said grocery store workers were advised to destroy the recalled formula to keep potentially contaminated cans off the market.
Abbott Nutrition will take stock of how much recalled product the store has collected and funded it, Luttrell said.
.