Free menstrual products are now available through 10 dispensers installed in bathrooms supported by the American Medical Women's Association (AMWA) at UNC Charlotte to raise awareness and fight for their "Period Poverty Initiative."
Four of the 10 dispensers were installed on April 18, 2022, in the Student Union and the Student Health Center. There are three dispensers in the Student Union. One dispenser is in the first-floor women's restroom by the elevator. The second is in the gender-neutral restroom at the theater. The third is in the second-floor women's restroom by the elevator. There is also a dispenser in the Student Health Center in the second-floor women's restroom. By May, the six remaining dispensers will be installed in UREC and Counseling and Psychological Services (CAPS).
AMWA created this initiative to bring awareness to period poverty. Period poverty is not being able to afford menstrual products every month. According to the AMWA national website, "Periods are often associated with shame and stigma, as well as poor menstruation education. Around the world, children miss school while menstruating due to lack of access in addition to cultural or social stigma that they may face. In other countries, 2 out of 3 girls may avoid school because they have not been educated about their period. "
Each of these dispensers will have a QR code that will collect data via survey for the dispensers. The hope of AMWA's pilot initiative is that the data will show the need for more of these dispensers on campus and in every building and bathroom. The data collection will occur in the fall 2022 semester, as most students will not be on campus over the summer.
According to Dr. Christine Reed Davis, associate vice chancellor of student affairs and dean of students, the buildings are split up into state-owned and university-owned buildings. Since each of these buildings is managed differently, AMWA needed to go to each building manager to propose a budget and plan for installing these dispensers.
According to Tyler Sytsma, project coordinator, the Charlotte Green Initiative fund funded the dispensers. Facilities management installed the dispensers and worked with Sytsma to get them up as quickly as possible.
According to BMC Women's Health"14.2% of women had experienced period poverty ever in the past year; an additional 10% experienced it every month."
AMWA used BMC Women's Health's study and data to create a plan and a budget to propose to various administrators and faculty members at Charlotte to get the dispensers in the bathrooms. The initiative is helping to make sure women aren't caught unprepared.
AMWA wants Charlotte to recognize the weight of the 'Pink tax,' 'Tampon tax' or 'Period tax.' Tampons and pads are considered luxury items that are taxed rather than a necessity. According to the Tax Foundation website, North Carolina has a 4.75% tax, where menstrual products are included in the state's sales tax base. The highest state's sales tax included in base in California at 7.25%. The price of a regular box of tampons is an average of $ 11, and a box of pads is $ 9.
The initiative began with the idea of ​​installing dispensers of free menstrual products on campus to address the problem of period poverty, according to Vice President Ainella Rysbayayev.
Lyudmila Grodsky, the former president and founder of AMWA, Krishna Majithia, the current president, and Rysbayayev, have been all working together to lead the initiative.
Sytsma hopes that the initiative will destigmatize the issue on campus and that the program will catch on and not be a second thought when it comes to construction or reconstruction on campus when installing these dispensers.
"I think it will start more conversations about what health services should be accessible to a campus population," said Sytsma.
"I think this is a perfect example of our students seeing a problem, taking action, collaborating with administrators on how to solve the problem, presenting a solution, and creating something that will outlast them as students on their journey," said Davis.
On April 19 at 6 pm in Denny 220, AMWA hosted a Period Packing Party where they packaged menstrual products in paper bags to distribute. The packing was done quickly with the volunteers' help.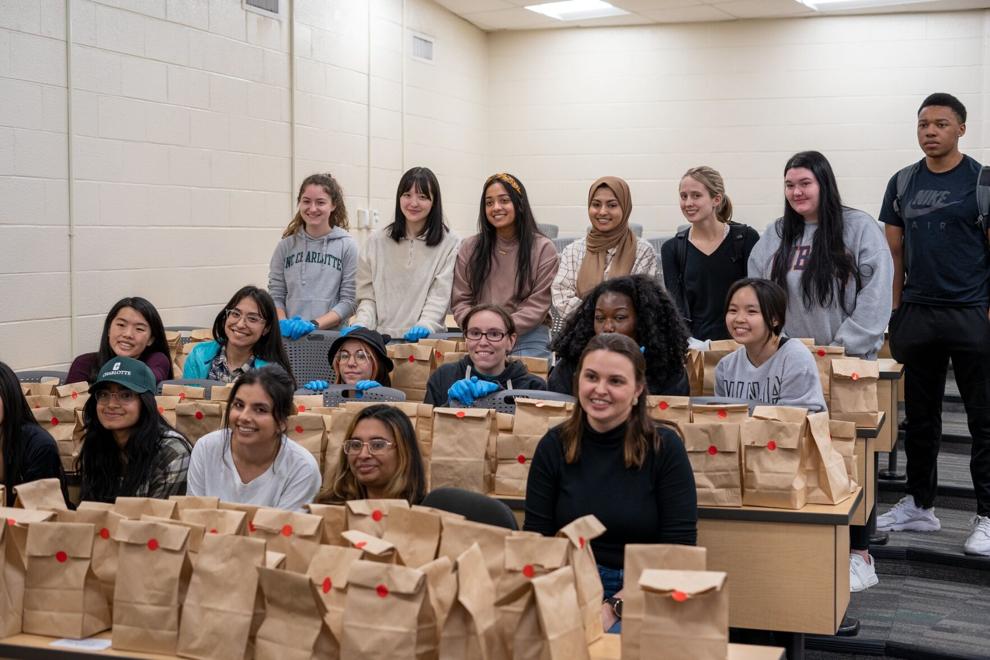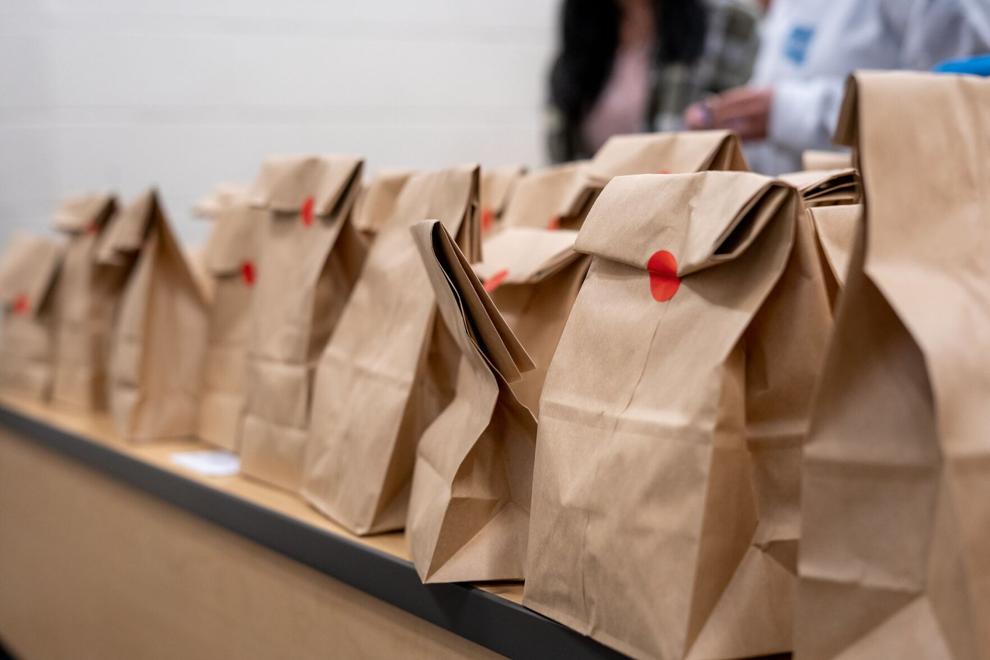 AMWA is also hosting tabling in front of the Student Union to bring awareness of the dispensers. In addition, the organization has posted flyers in many buildings on campus. The flyers contain a brief overview of the initiative and information to bring education about period poverty.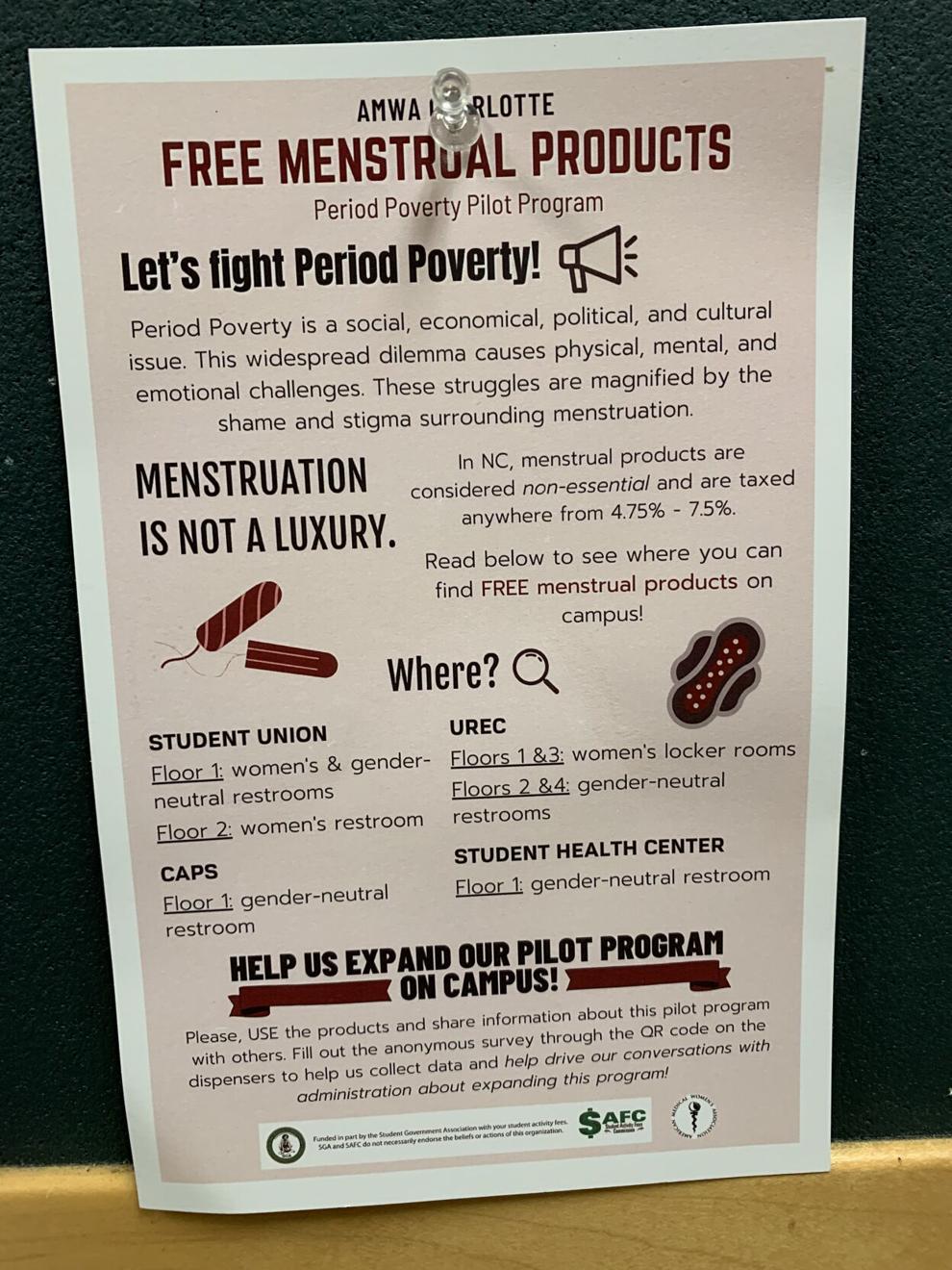 "We created the Period Poverty Committee to allow our members an opportunity to get involved with this issue," said Majithia.
The next step for the initiative is to reach out to the Student Government Association (SGA) Student Body President, Tatiyana Larson, to gain support. Through SGA, AMWA hopes to move the initiative forward in reaching Chancellor Gaber and gaining her support. Ross suggested that AMWA should also reach out to specific tampon and pad brands such as Tampax, Kotex, Always and Playtex to help support the initiative.
"This has been a neglected topic on our campus, which is why we're so passionate about it," said Grodsky. "If we have toilet covers, why do we not have menstrual products for women who need them every month, and it's not an option for us?"
.